Secure Connectivity Provider, CSL, has announced its impending Head Office relocation as it celebrates its 25th anniversary this year.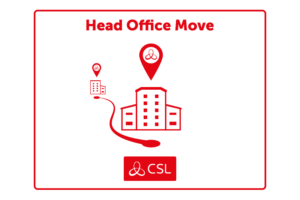 The company, founded in 1996, is moving from its current office in Harefield, Uxbridge, to new premises in Croxley Park, located just outside of Watford, Hertfordshire.
The Park boasts a thriving community of more than 60 companies and is conveniently located near to the M25, with easy access into Central London.
CSL will be warmly welcomed to the Hertfordshire business community as the business has been supplying critical connectivity for a quarter of a century, and now supports over one million M2M/IoT devices through the world.
After 22 years at its current office in Harefield, CSL will be moving to Croxley Park from 1st May 2021, which will provide a great new working environment for their staff, as well as a friendly and welcoming space for visiting partners and customers.
Ed Heale, CSL's CEO, commented: "In order to support our continued growth and future strategy, I'm delighted to announce that we will be moving to Croxley Park next month. Our new Head Office will enable us to expand across all parts of the business from Customer Support through to Operations, IT and Product Development. The facilities are fantastic, and the transport links will mean we're easier to get to. We look forward to welcoming you to our new office soon!"
The new Head Office address is: CSL, Building 4, Croxley Park, Hatters Lane, Watford, WD18 8YF.
Find out more about CSL's history, here.
---
Watch the company's recent Tech Talks below, where it provided an overview of its DualCom Pro range.