When the pandemic hit, London-based restauranteur Sanjay Anand, owner of catering and restaurant business Madhu's, found himself feeling restless, with more time on his hands than he had had in decades.
Pre-pandemic Madhu's, which specialises in luxury Indian food, was predominantly a catering business, and when Covid restrictions were put in place last March around 300 weddings they were catering for were immediately cancelled.
Turnover promptly dropped, and a combination of worry about the business and spare time led Anand to consider new options, eventually deciding, however counter-intuitive it seemed, to open two restaurants in the middle of a pandemic.
"Are you crazy?" Is apparently a common response when hearing of Anand's decision to open the two new eateries – Madhu's at The Grove in Hertfordshire, and Madhu's at The Dilly in Mayfair – at a time when hospitality has suffered more than almost any other sector.
Hospitality has been hammered by Covid-19 and its subsequent restrictions. The virus forced the permanent closure of around 10,000 pubs and restaurants, according to consultants CGA and business advisory firm AlixPartners, and put an end to in-person events, which are yet to return in any large capacity.
In response to the pandemic Madhu's went through a total restructuring. Before the pandemic the business had two restaurants – one in Southall and one at Heathrow – but the company's main revenue stream was catering, having even catered for Prince Charles on one occasion. When Covid hit and events were postponed or cancelled, he and his team suddenly found themselves with very little work.
"We were a company that used to do 300 events a year, we were predominantly a catering company that had two restaurants," Anand says. "You can imagine that from March 2020, everything came to a halt."
Turnover at Madhu's went from around £12m to around half a million pounds in one year because of the pandemic.  
But while catering work dried up, for the first time Madhu's had the time it needed to open major a restaurant, and so the business took the plunge and took out short leases at The Dilly and The Grove. Madhu's at The Grove has been open for just over a month, while Madhu's at The Dilly is opening on 29 June, with the opening having already been pushed back a couple of weeks because of the delay to so-called 'freedom day'.
"We're really excited about it," the restauranteur says. "We've really gone to town with everything. When we saw [The Dilly] and how magnificent the place is – a listed building with high ceilings, superb architecture and magnificent chandeliers – a feel you just don't get these days.
"It was an opportunity that I didn't want to put down, if the pandemic wasn't there we would've been too busy and the hotel wouldn't have been able to give us this opportunity."
The restaurant at The Grove has already seen some success; Anand says the restaurant is generally full at dinner and as a result he is considering opening up a lunchtime.
Like other restaurants, Madhu's has struggled to find staff in the wake of both Brexit and coronavirus, and has consequently chosen to open only for dinner to keep costs down.
But The Dilly is arguably the more high-risk of the two restaurants. Central London has been disproportionately affected by coronavirus because it has lost its usual tourism economy and, with many workers still working from home, fewer Londoners are wandering the streets looking for lunch spots.
The Dilly has also been a costly endeavour for Anand, having invested significantly in the kitchen and "gone to town" to make the dining area look and feel how he wanted.
---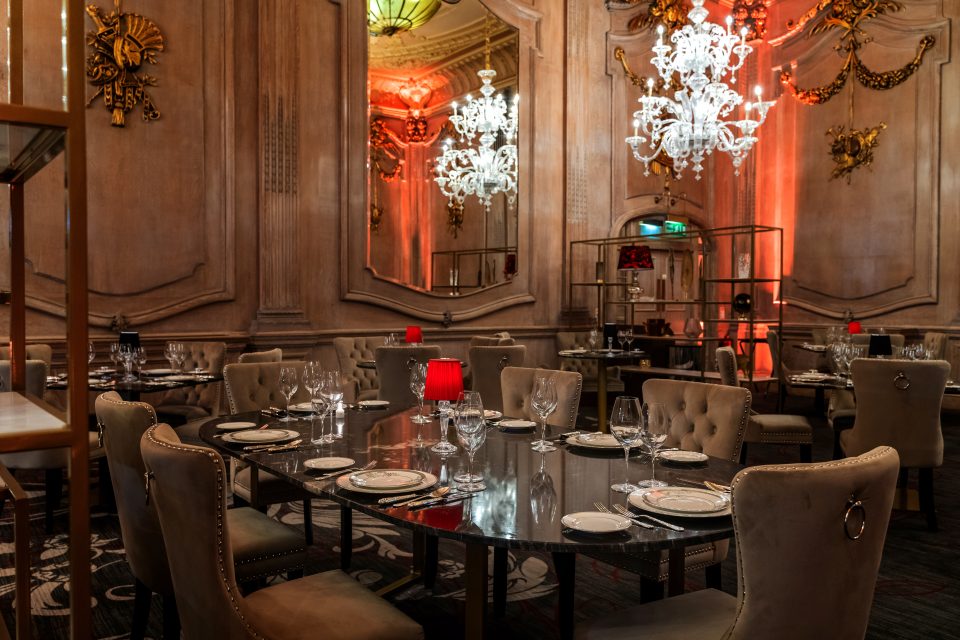 ---
"To turn it into a profit is very difficult."
Although most pre-Covid freedoms have now being reinstated, hospitality is far from out of the woods; despite being open for business, pubs and restaurants are still struggling to turn a profit because restrictions mean venues are far from at full capacity.
"What they don't realise is that if you've got 100 chairs, the first 70 chairs are just paying the cost. It's not until you're full that it starts turning into a profit, and with social distancing, capacity has been cut," Anand says.
"With new [coronavirus] measures we need a person at the door to temperature check, seat and sign in, then we offer customers sanitizer, QR codes, disposable menus… All these things cost additional money and we've got less seats to make up for it."
Restaurants also face paying back loans that have kept them afloat during Covid lockdowns.
The government just last week announced an extension to the commercial eviction ban until March 2022 in the wake of the decision to keep some Covid restrictions in place until at least 19 July – something that Anand sees as an imperfect solution to a problem.
"Those rents still have to be paid, you're still in debt, it's not as if the government is saying 'you don't have to pay those rents'," he says.
"A lot of people get the wrong end of the stick, it just means they can't evict you. The debt is still there and grows and adds pressure. The government need to look at how they helped the workers, and help businesses in the same way."
Despite the extensive disruption caused by Covid-19 and the challenges he is likely to face getting the two restaurants off the ground, Anand insists he is confident about his decision, though he says his confidence centres on his product – Indian food with a luxury twist, the recipes of which have been "handed down from generation to generation", according to Anand – not the climate in which he is operating.
"The run of the mill restaurants are really struggling," he continues. "Let's see what happens in Mayfair. We feel we're bringing a product that is second to none, but we're not taking the competition lightly. There are plenty of well-established Indian restaurants [in Mayfair], and we're going to be competing with them, and the environment out there isn't helping."
On Covid restrictions being fully lifted, he adds: "I hope 19 July marks the last of the restrictions, I'm very optimistic that we'll get back to normal and we can live our lives. I may be a bit too optimistic, but that's what I'm hoping."